Geoflex Won Second Prize At Software Republic's Mobility 4.0 Challenge
The French high accuracy positioning startup joins the Open Innovation Ecosystem founded by Atos, Dassault Systèmes, Orange, Renault Group, STMicroelectronics and Thales
Geoflex was awarded the second prize of the Mobility 4.0 Challenge organized by the Software République, an alliance formed by Atos, Dassault Systèmes, Orange, Renault Group, STMicroelectronics and Thales aiming to innovate in the field of intelligent and sustainable mobility by bringing together leading companies and innovative startups. 151 international startups were initially competing in the Challenge.
"We are very proud to be on the podium of this competition," rejoices Romain Legros, founder and President of Geoflex. "Working hand in hand with these automotive and digital giants will allow us to accelerate the integration of our solutions into the car of today and tomorrow. "
Accurate geolocation for Lane Level Navigation, High Definition Maps & more
The development of high-definition global digital maps, updated very quickly and at a sustainable cost, is a key ingredient in the democratization of new services such as lane-level navigation, driver assistance services and others, leveraging the positioning accuracy of car data.
Through a proof of concept, implemented in less than six weeks, Geoflex has demonstrated in the streets of Paris the very high accuracy and integrity of its positioning service. This allows, by significantly improving the quality of the positioning data of cars sold in the mainstream, to generate in real time the key elements of a High Definition map, at a cost and coverage unmatched on the market today.
This proof of concept was implemented with a Renault vehicle and a standard automotive GPS / GNSS receiver from STMicroelectronics, and its visualization integrated into a digital twin of the city of Paris developed by Dassault Systèmes. The Geoflex correction service achieved an accuracy better than 30 cm, despite a dense urban location, in the center of Paris, including a succession of passages under tunnels and bridges, where the satellite signals are disturbed.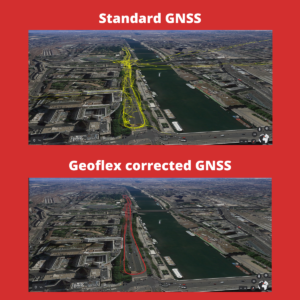 About Geoflex
Geoflex is a cutting edge service operator enhancing GPS/GNSS based applications with accurate and safe positioning down to 4 centimeters accuracy on land, at sea and in the air. Geoflex provides universal hypergeolocation to trains, cars, vessels, drones, smartphones and more, working with the leading worldwide players in these markets.
This hypergeolocation system is based upon a unique alliance between a portfolio of technology patents developed for more than 10 years by French space agency CNES, and a seasoned team with 30 years experience in GPS/GNSS.
Geoflex has been founded in 2012 by Romain Legros, a serial entrepreneur in GNSS. The company is headquartered near Paris, France.
Hypergeolocation news