Geoflex Wins Award at Zhongguancun Rail Competition
Geoflex technology for safe and accurate positioning of trains honored by "Best Potential Award"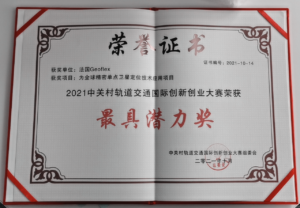 Massy, France, October 13th, 2021 – Geoflex, a worldwide provider of high-precision positioning services, has won the "Best Potential Award" at the Zhongguancun Rail Transit International Innovation and Entrepreneurship Competition. The competition started in April 2021 and the award was revealed in a ceremony on October 10th.
The award recognizes the innovation developed by Geoflex for the safe and precise positioning of trains. Geoflex has indeed developed a safe and accurate positioning system allowing the precise position of trains on their specific tracks, allowing a significant reduction of railways signaling infrastructure along tracks.
The goal of the Zhongguancun Rail Transit International Innovation and Entrepreneurship Competition is to identify innovative companies for settlement on a business campus dedicated to the railway ecosystem located in Beiljing, China. 109 companies have joined the competition, including 7 non-Chinese businesses.
"We are very honored by this Best Potential award," explained Romain Legros, CEO of Geoflex. "As a French startup, getting such visibility in China is a great opportunity to showcase our technology to the largest railway companies in China," he added.
"As the organizer of this competition, we are very pleased to have a world-leading technology company like french company Geoflex participate in our competition. We believe that the Geoflex's state-of-art technology has a great business potential in the field of Rail and it is well-deserved to receive this award" said Mr Sun Ying,Deputy General Manager of Beijing Zhongguancun Rail Transit Industry Development Co., Ltd.
About Geoflex
Geoflex is a cutting-edge cloud service operator enhancing GPS/GNSS based applications to 4 centimeters positioning on land, at sea and in the air.
Geoflex provides universal hypergeolocation to trains, cars, vessels, drones, smartphones and more, working with the leading worldwide players in these markets.
This hypergeolocation system is based upon a unique alliance between a portfolio of technology patents developed for more than 10 years by French space agency CNES, and a seasoned team with 30 years experience in GPS/GNSS.
Geoflex has been founded in 2012 by Romain Legros, a serial entrepreneur in GNSS. The company is headquartered near Paris, France.
Hypergeolocation news